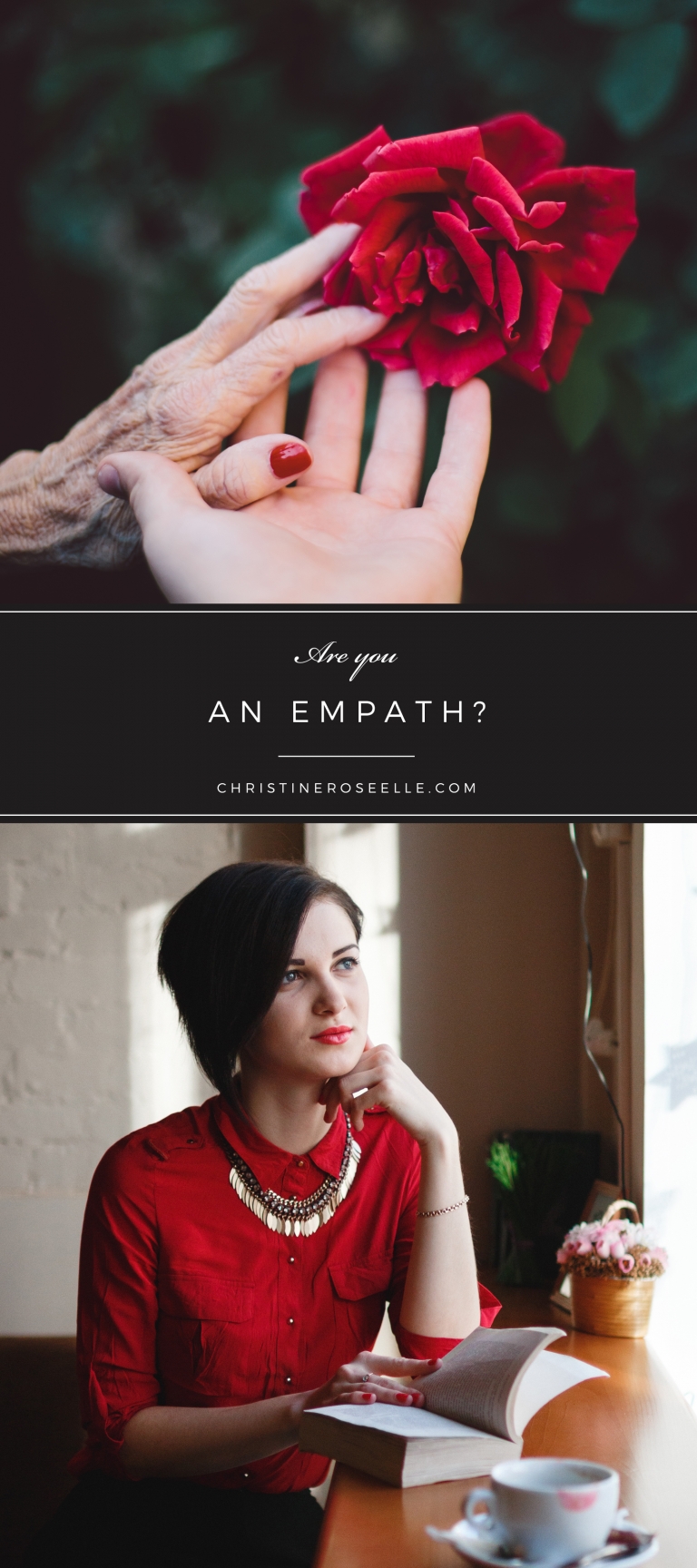 Are you an Empath?
I have been an Empath my whole life, but only within the last few years, have I known what an empath is. If I had known a bit more about it, I think I could have recognized and managed the dark sides of being an empath a little bit better, and could have learned to turn some of the struggles that come with being and empath, into extreme strengths that help people, a little bit sooner.
If you think you might be an Empath, I thought it might be helpful for you to have a deeper understanding of how to take care of yourself and how to have the biggest impact on others while doing so.
As a coach, you can imagine that being an empath comes in very handy. And you would be right. It comes in very handy for connecting with all people, not just my clients. It helps to truly understand people that I don't share common values with, or in which we hold really different points of view.
Being able to feel the emotions of other people is a very powerful tool for creating belonging and connection.
Feeling the emotions of other people can also be very difficult if you don't know how to manage and process them. By sharing my some of my experiences as a Empath, I hope to help you understand if you might be an Empath too, and how to build this skill safely.
What is an Empath?
An empath is a highly sensitive person who can attune to the feelings of other people at a deep, profound and often physical level of understanding.
What are some common traits of empaths?
We have heightened senses: Empaths navigate and process their surroundings with all their senses. We use our senses to learn about other people and the world.
We're Intuitive: Intuition is a skill built from learning to trust the information that you receive through your senses. And then acting appropriately based on that information.
We need a lot of alone time. The need for alone time isn't just us expressing our delicate and fragile sensibilities. It a necessary way of cleansing the palette of over stimulated senses so that we can exist in the world without having to crumble in a heap.
Negativity impacts us deeply. Negativity impacts everyone deeply, but for an empath, prolonged expose to negativity without balance can create physical havoc in our emotional feeling bodies. I am living proof that unprocessed shadow material is physically damaging.
We have a rich inner life. A balanced empath is highly imaginative, creative, and multi passionate. We love learning, and beauty, and are adventurous with our personal growth.
We attract energy vampires. Actually we humans are all energy vampires. We need to connect and share with other people as much as we need breath. So I think of an energy vampire as someone who is stuck in the forward motion of their relationship to self. They have not learned yet that it is their responsibility to be in charge of their own emotions, therefore they look to others to regulate them. And who better to do this with than someone who can attune to them deeply and reflect back to them. We empaths are the low hanging fruit for someone who is struggling with this.
I'd like to share a little bit about my personal journey as an empath in the hopes that it might give you a deeper understanding of how being an empath might effect you going forward.
How do I know that I'm an Empath?
Most of the articles and posts I have read about how to know if you are an Empath felt to general to me. Kind of like those Cosmopolitan magazine horoscopes. The qualities can apply to everyone because they describe human nature.
Empaths are highly cognizant of the way that the emotional human experience is made up our personal emotions, the emotions of others, and the way those combined emotional landscapes effects us physically in our bodies and in the world. We intuit this information with all of our senses.
Most of my life I didn't know what an empath was or that I am one.
There was no schematic for introversion or extroversion, high sensitivity, or being an empath. When I look back and reflect on ways I behaved during childhood it's so obvious.
As a child:
I hid in dark closets, and under beds to get away from people because these dark and muffled spaces allowed me to regulate my heightened emotions.
I was constantly sick to my stomach because I would feel the emotions of my adult caregivers and take them on.
When I was around groups of other children, such as at school, I would run home and hide.
When people would speak I would wish there was a way to turn the volume of their voices down.
I would cry listening to music that wasn't even sad.
I experienced depression from a feeling of being overwhelmed by the world.
I sought the comfort of animals, and felt peaceful attuning to them.
As an adult:
I have a non negotiable need for lack of stimulation, and alone time. I need copious amounts of quiet time in order to form a functioning thought.
I instantly feel the despair of others in my body as intense sadness, and sudden heaviness.
Exposure to over stimulating environments such as, shopping malls, crowded places like Disneyland give me high amounts of anxiety and activate my emotions, but strangely can be very enjoyable, because of all the happy people, and oxytocin.
Avoid places with loud noise such a concerts, and crowds.
Those are all self impact signifiers, things that effect me.
How do you recognize if you are an empath based on what you can tell about other people?
You get a strong unsettled feeling when someone says something that doesn't match how they really feel. For example when you ask someone if they are mad, and they say no.
You feel angry out of nowhere when you around someone hostile.
You can see micro expressions on people's faces when they feel fear, disgust, anger, or sadness.
You can feel when someone is soulfully vacant due to extreme drug use, alcohol consumption or even severe abuse or trauma.
You can feel when someone is 'on tracks.' Meaning reacting unconsciously vs. reacting from presence.
You can feel what someone is like by walking into their living space.
You can feel how people are being treated in hierarchical, controlled environments such as restaurants or other public places that have lots of different kinds of staff.
You can feel when you aren't on someone's emotional radar.
You can feel the shadows of what other people are hiding and don't want you to know about them.
You can feel people who are processing trauma.
When someone feels joyful, you feel bubbly.
You can understand animals and sentient being.
You can feel what an artist went through by looking at certain creative works.
You can feel the unfinished legacy of ancestors.
Are empaths psychic?
It depends based on your understanding and belief of what psychic means. If you think of psychic as someone who can intuit your future events, then no.
If you think a psychic as someone who can attune to and mirror your unconscious emotions as they relate to the aspect of self, then yes.
Empaths can reflect back to you your unconscious emotions, therefore it might seem like they hold some magical gift of knowing, but we are just mirroring things about your emotions that you can't see yet.
Because of these empathic abilities, I have learned over my lifetime the best ways to manage the emotional information that I receive from others.
Tips for managing your empathic nature
Separate which emotions belong to you. Because we feel the feelings of others, we must have a plan, and be vigilant about determining what is your feeling, and what belongs to someone else. Your feeling body isn't naturally calibrated to separate the physicality of your feeling from someone else's feelings. So it's critical that you make these distinctions consciously. For me this plan includes massive amounts of alone time and experiences in nature.
Learn to recognize the qualities of narcissists & takers immediately. I have a post about this on my website, and As someone who is attuned to emotions, believe me when I tell you that you can not afford a relationship with a narcissist. Their brand of emotional processing is to take from others, and to put it simply and as a succinct harbinger, know in your soul you can not change them. No matter how tempting it might be to try.
Learn to process emotion. This is critical. I spent over 25 years managing a painful condition called cyclic vomiting syndrome, that was triggered by stress related abdominal migraines. This was mainly because I absorbed and held onto the pain, anguish and emotions of others. It wasn't until I deliberately devised a way to live my life caring for my own health first, that I became free from the physical symptoms of unprocessed emotion. My plan for processing emotion is this: Exercise, limited exposure to stressor, massive amounts of alone time, journaling, exposure to beauty and inspiration.
Schedule processing time. Doing this one thing has changed my life. I know that even after the most benign of encounters, such as going to the grocery store, that an upregulation in the homoestasis of my emotional body will occur. So I schedule an appropriate amount of time when I get home to regulate. The amount of time needed to regulate is directly proportional to the amount of stimulation experienced. A general rule of thumb, 5-10 minutes of alone processing time for mildly upregulating activities, and 1 hour for highly activating activities. Traumatic events are different, and require different amounts of regulation based on level of trauma.
Expose yourself to beauty. I hinted at this in my processing routine, and this is actually one of the most critical and often ignored essentials for an Empath. Exposure to beauty allows us to replenish our tanks. Nature, imagery, art, music, colors, photographs, paintings, cinema, poetry, being with animals, what ever beauty is to you, you must make time to experience it. This is not negotiable for an Empath.
Expose yourself to beauty.
Exposing yourself to beauty and then processing it is the counter balance to all of the inflicted violence, harm, and unconscious cruelty that arises daily and is given airtime. Often times we are blindsided by it, and have no choice in the exposure of it. In order to keep emotional homoeostasis, we must expose ourselves to beauty.
There is a common misunderstanding that beauty is indulgent, frivolous, and shallow mainly devised from the needs of a non-empath.
When in fact the opposite is true. It takes extreme depth to open your senses and experience beauty. If you feel feelings of guilt from having the essential need to experience beauty, or you have held onto someone else's values and beliefs about the importance of beauty, it's time to make a boundary around it. And share with your aesthetic oppressor that exposure to beauty is a necessary experience in the regulation of your emotional body, and that your life would be half lived without it.